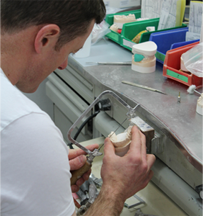 Chris Marson had been a director here at The Parade for over 35 years when in 2009 Rob Taylor and John Cradock joined him as business partners and Synergy Dental Laboratory 2009 Ltd was formed.
We can confidently say we have an excellent working relationship and feel we are more like a band of brothers than work colleagues encouraging a happy, friendly working environment for our employees.
We have built strong relationships with leading dental surgeons across the UK and Ireland continuing to restore dental implants for some of the most reputable implant surgeons who have been at the forefront of Implantology.
We pride ourselves with good communication whether it's with clinician, suppliers or the patient themselves. We have incorporated Cad/Cam technology in to our lab enabling us to combine traditional and modern techniques. This as well as our extensive knowledge, expertise, best quality materials and great technical skills ensure that a superb result is achieved for both clinician and patient.
We offer great technical skills to build beauty on to the accuracy and consistency provided by the latest scanners.