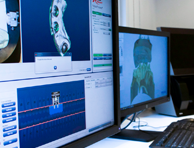 We've been restoring dental implants since the 1980's, for some of the most reputable Implant Surgeons across the UK who have been at the forefront of Implantology.
Implant restoration has continued to advance with computer aided technology and we have continued to move with this working with Nobel Biocare and 3 shape scanners. This along with our knowledge, expertise, latest materials and technical skill, enables us to present you the clinician and patient a superb result. We encourage good communication and treatment planning service to support where needed.
Call us to find out more or contact us by our e-mail link and we will happily get back to you at our earliest convenience.